My brother from Connecticut came down for my daughters wedding and stayed a few extra days to visit, so I thought I would treat him to a brief Jug Fishing run on Belton Lake. It was his first jugging trip and I think he had a good time. We put in at the HWY 36 Bridge around the mouth of the Leon River. It had just rained the day before and the water was badly stained. Didn't have the time to go down the lake to clear water, so we put some jugs around the river channel and at the mouth of Owl Creek in about 25 - 30' of water. The bait was fresh cut shad and with the water badly stained, we didn't expect much, but did better than I thought we would. We used five hook jug lines and most of the fish we caught on the top two hooks. Here's a few pics for you: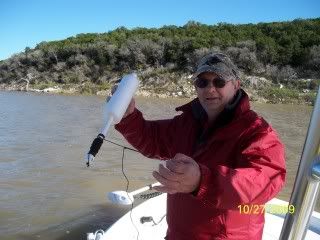 Brother Ray on the jug. Note the stained water
Cut shad on a 5-0 Circle Hook
20# carp caught in the cast net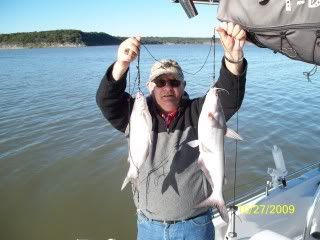 There's you a double!